About Us
---
Often interest, education and a drive for success comes together to set a path for excellence. Richpark is a wonderful result of over thirty years of this good fortune.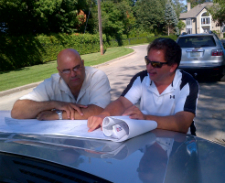 John Kafieh was educated at Toronto's Downtown Ryerson University, graduating from Ryerson's School of Urban and Regional Planning in 1983, worked in the Municipal Development Sector before being recruited by a tremendously successful Residential Builder/Developer who mentored John and set the stage for Richpark's success.
Ron Cowan joined forces with Richpark from an outstanding career in the Financial Sector of Canada's largest city, Toronto, and with his analytical, re-engineering and marketing strengths, has driven Richpark to the next tier of achievement.